The Pillars of Our Platform Are Built to Streamline Your Private Vehicle Acquisitions
CRM INTEGRATION
Enhance lead tracking and reduce data entry with inbound texts and calls sent seamlessly to your CRM for more efficient follow-up.
CALL RECORDINGS
Call recordings attached to leads reduce the need for entering notes in CRM.
TEXT-TO-EMAIL VEHICLE DETAILS
Inbound text message replies sent to your email for quick access and ease of use.
CALL WHISPER
Answer calls distinctly for private sellers with custom "call whisper" to help identify V.A.N. leads from others.
TEXT REPLY FILTER
Keep you and your team more productive with optional text filters to eliminate unwanted replies such as responses from other dealers, vehicles already sold or salvaged, negative/offensive language, and more.
DYNAMIC SEARCH
Locate listed vehicles based on any desired criteria such as geographic location, make, model, trim, color, miles. etc.
CAN YOU OPTIMIZE STREET BUYS ON YOUR OWN?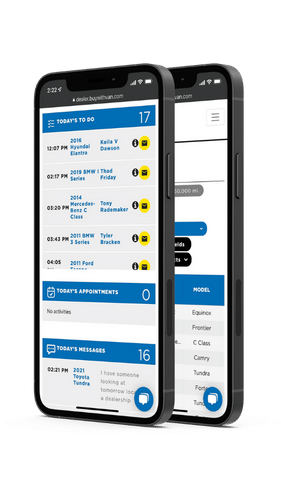 Identify hundreds of individuals in your area listing their vehicles for sales online

Verify contact info including phone number and email

Generate dealer-customized text and email messages

Stagger messaging to private sellers throughout the day to keep pace

Capture responses from private sellers and auto-forward directly to your designated device via text and/or email

Get detailed reporting of responses from private sellers

Search private seller listings manually and automatically
"Ten out of ten, it puts everything in one spot for me. I would recommend this to everyone!"
Tara Lloyd - Used Car Buyer at Fields Auto Group
Secure Your Market Today!
Vehicle Acquisition Network can teach you how. Get started with a free demo today.