Our Team Raises The Bar On Software Support And Training
The Challenge
Any software system is only as good as its users. Dealers will only get out of VAN what they put in, and it can be challenging to determine where the software is being under-utilized.
How We Solve It
Dealers who choose VAN have the support of a VAN Performance Manager – a dedicated advisor with real-world automotive retail experience. A dealer's Performance Manager, who fully understands common dealership issues, helps capitalize on VAN to improve performance and ensure success.
In Depth Platform Knowledge
Meet our Performance Management team and learn more about how we support our dealer partners proactively. Many of our team have used the VAN platform when they ran their own buy centers!
Proactive Partnership
Make the most of VAN and get ahead. Performance Management is different than technical support. Rather than reactively troubleshooting issues, your dedicated Performance Manager proactively partners with you to identify critical areas for improvement for your business based on your utilization and performance.
Regular Reviews
Receive weekly performance calls with your designated Performance Manager for the first month after installation, with monthly recurring meetings to discuss usage and best practices to move the needle at your store. Continue learning with regular training options focused on top utilization issues and best practices.
Industry Experience
Every Performance Manager is a car person. With their dealership experience, they are uniquely positioned to learn your business and help you improve overall performance to achieve your goals and ensure continued success.
VAN UNIVERSITY
Acquisition Training Program
Whether your dealership has an existing Buy Center, is interested in building an acquisition strategy, or has unsuccessfully attempted a Buy Center, VAN combines practical experience and thought leadership to flawlessly execute your business development objectives using proven strategies from top dealer groups and over two decades of experience. Our comprehensive, customizable acquisition solutions span from virtual to onsite, providing your dealership with new value and tangible results.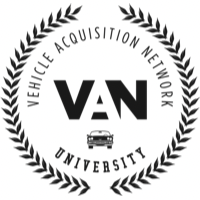 VIRTUAL AND IN-DEALERSHIP TRAINING
Extraordinary Experiences for Customers Begin with Great People and Processes.
Every dealership is unique, so you need a customized program led by industry experts who understand the automotive market. VAN provides the knowledge, experience, and applications to advance your dealership forward.
We work with clients to design and implement a training and consulting solution to optimize their acquisition strategy and buy center. Develop your team with immersive, hands-on training where employees can practice essential skills taught by an expert. Managers can review performance standards to provide real-time, ongoing coaching.
Secure Your Market Today!
Vehicle Acquisition Network can teach you how. Get started with a free demo today.