Continuing Education
Get Street Purchase Certified with VAN. Rev Up Your Dealership Success with VAN U's Comprehensive Training! Your Road to Winning Vehicle Acquisition Starts Here.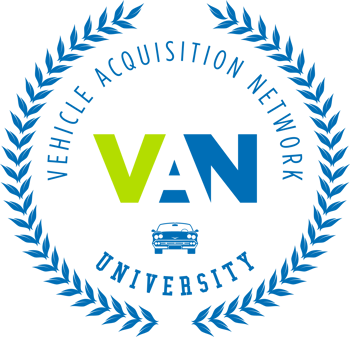 Driving Dealership Success in North America.
Discover VAN University, a gateway to specialized tools and training designed for the modern North American dealership landscape. Experience the difference between our unique digital training approaches and unwavering support. Curious about driving your success? Join our exclusive circle of dealers to unlock their full potential.
VAN U's Features and Benefits
Training Path
From new hires to seasoned professionals, our interactive courses and real-world scenarios guide your team to master the processes that make your dealership stand out.
Experienced Performance Management Team
Our Performance Management Team, with extensive automotive experience and specialized training, has conquered the challenges you face. Always on hand for one-on-one advice, they're committed to unlocking your dealership's full potential.
Strategic Decision-Making for Continuous Success
VAN U's in-depth insights and best practices empower your dealership to make informed, strategic decisions, paving the way for a profitable and sustainable business.
Customized Learning Paths
Learn at Your Pace. VAN U offers customized learning paths tailored to different roles within your dealership, allowing your team to grow skills at their own pace and align with your business goals.